Jeffrey Rosson FBHI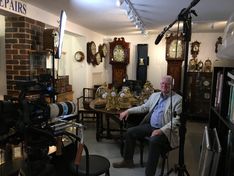 Under the direction of Jeffrey Rosson FBHI, a third generation horologist and Fellow of The British Horological Institute, City Clocks offers a traditional clock and watch repair service.
From sorting out a much loved pocket watch to the design and construction of an architectural clock that impresses visitors to an important building. Time has been our business since 1898.
Jeff started work on clocks and watches in his fathers shop when he was just 14 years old. Often using tools from his grandfathers' day he worked for pocket money at weekends and was soon acquiring the skills of a craftsman. Although fast becoming a competent clockmaker Jeff's first career choice was farming. Having worked one summer on a farm in Dorset. A frustrated careers master persuaded Jeff that as he already had considerable skills in clock making, the family business was worth at least his best shot.
The work became attractive and a three-year course under the guidance of the British Horological Institute at Hackney gained a first class qualification followed by a year post fellowship training adjusting watches for great accuracy. There was a break from the family business to work as a design and development engineer in industrial instrumentation. Inventing new mechanical pressure and temperature measuring devices included measuring the coolant flow in a fast breeder reactor. All this advanced engineering experience has been invaluable when designing architectural and automata clocks.
Fortnum and Mason commissioned a replica of their famous automata clock that is their trademark. This, the largest portable automata clock in the world and tours the world promoting Fortnum and Masons products. An architectural project was the world time clock at 120 Cheapside. At ten feet in diameter this clock has the largest clock wheel known and has a pendulum weighing 140 lb. Later Jeff redesigned this great clock to dominate the reception at a tower block in Canary Wharf. These great clocks contrast with a car clock built for an Aston Martin and a solid silver clock for Rolls Royce. Recently a retirement presentation clock displayed through a window in the dial a morphed pictorial representation of the recipient's entire career moving through each hour. Retirement and presentation clocks are often shaped to represent a building or piece of machinery that is personal.
Our website features clocks and barometers for sale. There is advice on the care and setting up of clocks that can be downloaded. Whether you have a treasured pocket watch, childhood cuckoo clock, Rolex, Omega, Patek or plain wrist watch, grandfather clock, rare bracket clock or other valued timepiece www.cityclocks.com is a good place to start.
For architectural or original presentation clocks an initial consultation and design outline is free of charge. The price quoted will be the price charged and everything is guaranteed.
House calls to home or office in London or Shropshire are £100, for anywhere else in the world just add expenses. If you are moving house we can prepare your clock for safe travel and assemble it on arrival.
We are 'Safe Contractor' certified & insured, and well use to dealing with facilities companies on behalf of clients.
← Back to About City Clocks